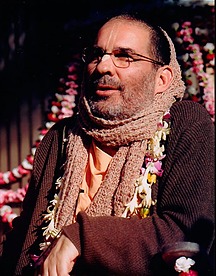 Swami Tripurari is a guru in the eastern religious tradition of Gaudiya Vaishnavism. Srila A.C. Bhaktivedanta Swami Prabhupada initiated Tripurari into the renounced order of sannyasa in 1975, and Tripurari received further instruction in the tradition under Prabhupada's godbrother Srila B.R. Shridhara Deva Goswami.  Tripurari's books on Gaudiya Vaishavism have received praise from scholars of religion such as Klaus Klostemaier, Houston Smith, Arvind Sharma, Georg Feuerstein, and William Jackson. His work provides a unique combination of mystical insight and philosophical clarity concerning the central concepts of the Gaudiya tradition.  Tripurari speaks in different locations around the world and guides two Vaishnava ashrams (monastic communities): Audarya, located in Northern California, and Madhuvan, located in the tropical jungle of Costa Rica.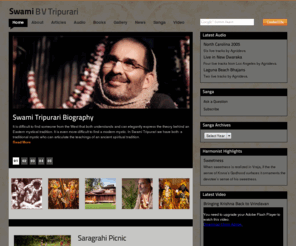 "It is difficult to find someone from the West that both understands and can elegantly express the theory behind an Eastern mystical tradition. It is even more difficult to find a modern mystic. In Swami Tripurari we have both: a traditional mystic who can articulate the teachings of an ancient spiritual tradition. A compelling speaker, to hear him and be in his presence is itself a spiritual experience." –  swamitripurari.com
Selected Works of Swami Tripurari
(Click on Image to Download Text)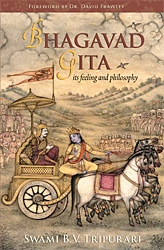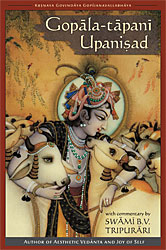 Selected Articles by Swami Tripurari


(1) On Adi Sankara
(2) What Would the Buddha Say
(3) Inconceivable, not Illogical
(4) When God Falls in Love
(5) Christ, Krishna, and Caitanya
(6) Bhagavad Gita: The Play of Violence
(7) Mahadeva Shiva and Vaishnavism
(8) Entering the Flow of Lila
(9) Krishna's Dilemma: How to Experience Radha's Prema
(10) Existing to Love
(11) When Science and Religion Converge
Talks by Tripurari (Audio) 



(1) False and Real Ego
(2) Bhakti in a Nutshell
(3) On Union and Separation (Q&A)
(4) On Static and Dynamic Union in Transcendence (Q&A)
(5) Giving Thanks in Yoga
(6) How to Cultivate Surrender
(7) Proving the Existence of God
(8) Bhagavad Gita Introduction
(9) Bhagavad Gita 4:7-8: Why Does God Descend?
(10) Bhagavad Gita 6:46-47: Krishna Introduces Gita's Theology
(11) Bhagavad Gita Chapter 7 Overview and Chapter 7 (continued)
(12) Bhagavad Gita Chapter 9 Overview
(13) Bhagavad Gita 10:41-42: "Of Trees, I am the Redwoods."
(14) Bhagavad Gita Chapter 12 Overview
(15) Srimad Bhagavatam 1:1:1: Introduction: Meditating on the Supreme Truth
(16) Srimad Bhagavatam 1:1:2: Bhagavatam as the Sequel to the Gita
(17) Srimad Bhagavatam 10:13:26: Love of the Self and the Super-Self
(18) Srimad Bhagavatam 10:33:36: Understanding Krishna's Lila
A complete list of Tripurari's talks are available on iTunes and the audio archives at swamitripurari.com.
Swami Tripurari Videos
Are All Religions the Same?
Is There More to Life than What I Can Perceive?
Has Science Replaced Religion?
Is Nature an Actual Person?
Is Darwin's View of Nature at Odds with Spirituality?
A Cure for Krishna's Fever (Elucidating Bhakti)
For more video talks by Tripurari, see Swami B.V. Tripurari Videos on Youtube.