NEWS AND ANNOUNCEMENTS
January 6, 2018: Follow me on Instagram and Goodreads.
June 14, 2017:  I have completed my third book, a psychological thriller-horror novel called Gel.  I'm currently preparing the manuscript for a short-list of beta-readers. For more information, see Gel – New Book Announcement.
Friday, January 20, 2017: Appearance on The Q.Psience Project with host Jill Hanson. I discuss my exploration of paranormal phenomena and recent Stephen King inspired journey into dark fiction writing. The live broadcast begins at 10:00pm EST. Listen in at www.kgraradio.com.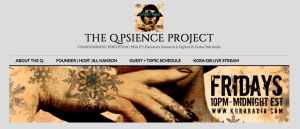 Sunday, December 4, 2016:  Second appearance on the Maureen Langan show on KGO Radio at 9:00pm.  We discuss several topics, including the epistemology of narcissism, heavy metal music and philosophy, and life after death. 
Sunday, November 13, 2016: Appearance on the Maureen Langan show on KGO Radio at 8:00pm.  Topic: philosophy and the Presidential election.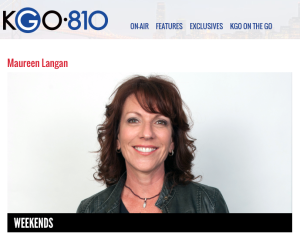 October 2, 2016: REPUBLISHED: My first book (on arguments for God's existence in the Reformed theological tradition) is now available in paperback through Routledge. First published in hardback in 2009.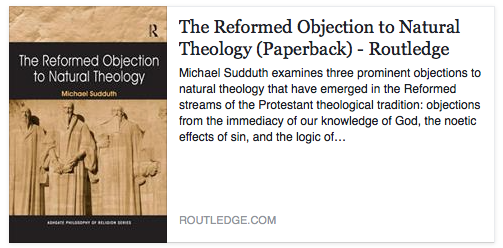 Friday, April 8, 2016:  Appearance on Q.Psience hosted by Jill Hanson 


March 21, 2016:  Talk in the Philosophy Department at University of Portland on Near-Death Experiences
January 26, 2016:  PUBLISHED – A Philosophical Critique of Empirical Arguments for Postmortem Survival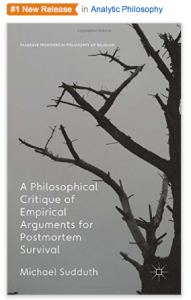 (Palgrave Macmillan – Palgrave Frontiers in Philosophy of Religion). Now available at Amazon and through Palgrave Macmillan.  For further details, visit Facebook – Philosophy of Postmortem Survival, or read Book Overview or sample chapter.
"Michael Sudduth has produced a ground-breaking work – original, nuanced, empirically comprehensive, and conceptually sophisticated. It sheds new light on the confusions and superficiality dominating the literature on postmortem survival, and is a major contribution to survival research." – Stephen Braude
"In this important new book, Sudduth applies his skills as an analytical philosopher to a thoroughgoing examination of the logic of existing empirical arguments for personal postmortem survival . . . . It is dense with hard, clear, sustained, and provocative critical thinking, and rich in penetrating observations about the state of play in contemporary discussions of postmortem survival." – Ed Kelly
May 10, 2015: Published interview on philosophy and my spiritual practice with Helen De Cruz